Free Web Series App is a must-have application for your phone as on a regular basis new web series are getting released and there are becoming more and more popular among the youth also OTT apps are getting popular and it is very hard to choose the correct one for yourself, but don't worry as I'm here with the list of Best Web series apps for you. We have also written an article on the best movie download app.
It was very hard to rank them in order because every app has Pro and cons so the list is in a random manner also note that as you pay for your D2H connection in a few apps you may have to pay for the contents as producers require funds to make awesome Web series for you.
Best Free Web Series App to Binge-Watch Now
Other than some of the mainstream web series and movie streaming platforms like Netflix, and Prime Tv, other applications hardly get exposure. Among the rarely publicized apps, most of them are free of cost making you binge-watch the whole day free of charge. Often we fear viruses or other malware invasions through free apps and don't install them. 
But trust us some of the free web series applications deserve a chance to provide all the needed recreation to you. To avoid your skepticism about using free apps, this article will be based on the best free web series app which can be downloaded from the play store.
MX Player
By maintaining all Indianness with it, MX Player can be ranked as one of the best free web series apps available to download from the play store. Rightly categorized among Over the top streaming, MX Player is filled with massive hit content. Not only English or Hindi-based series but other regional language shows including Punjabi, Bengali, Marathi, Gujarati, Tamil, Telugu, and Malayalam are also featured here. 
What's More: 
MX Player has not maintained the typical web series feature platform image, as it also engages in other interesting activities. You can listen to music, watch the news, play games, and more using the app. 
But, our only complaint about the app is that they should have limited the number of ads they play while streaming a single show. It's irritating to a point. But, yes! It's a free app so you can't complain. 
MovieFlix 
Another rising streaming platform with over fifty lakh downloads on Google Play Store is the MovieFlux app. It's an alternative to watching many movies and web series rent-free. Not only limited to localized streaming, but you can also expect Indian and international content on MovieFlix. Those series or movies you fall for and decide to watch later you can also add to your favorite list. 
What's More: 
Worldwide contents are available here. So, you can pick what you should watch from the wider catalog including the Spanish, Chinese, or Indian series. You don't have to spend extra data as you can customize the stream quality here. For regional or English series, enable the subtitle mode for easy understanding. Even without registering you can use the streaming platform. 
But, the repeated display of ads may disrupt your flow of watching any series. So, if you can afford extra time then go for it. 
JioCinema: Movies TV Originals
The Jio TV or Jio Cinema has been an amazing opportunity for users who use the Jio mobile network. The application is available with amazing web content which otherwise is hardly available. Many Alt Balaji series like Bose, Hoi Choi series, Bigg Boss live to stream, and Sony Liv shows and movies are available via the app. You can also watch sports channels using Jio sports. 
What's More: 
All of the free series available here have remained popular for some time and received the highest IMDB ratings. You can stream in-series over 15+ languages anytime anywhere. The application is pan-Indian and can be streamed from anywhere across the country. The interface is also user-friendly with multilingual UI handling options. 
But, the platform is only limited to Jio mobile network users. You can run the application from devices with other mobile network operators.
Airtel Xstream App: Movies, TV Shows
Similar to Vi movies and Jio Cinema, the Airtel XStream app is developed by the Bharti Airtel telecom partner. Initially, Xstream was called the Airtel TV app because it streamed content available on Airtel TV. But soon their broadcast range became wider. The viewers can watch premium content for free just by logging in using the Airtel Phone number. 
What's More: 
Airtel users can watch 350 live channels with over 1000+ exclusive web series and movies. For every device and operating system including Android, iOS pcs, and mobiles the application will work. Even though the app is not exempt from advertisements, they don't disrupt watching the content much. 
But, often the server remains down and the users can't enjoy the content anytime they want. Also, they should make the interface more user-friendly. 
Watch Your Favourite Movies, TV Shows, and much more on Airtel Xstream App (Airtel TV).
Airtel Xstream (Airtel TV) is the only entertainment app you ever need:
1. Watch 10000+ movies and 100s of TV shows available on Airtel Xstream
2. Catch up on TV Shows: Missed Latest Episode of your favorite TV Show? You can now catch up on all the episodes at your convenient time.
Web Series
The only App having 900+ Web series and 10000+ episodes in multiple languages. Having trouble finding your favorite web series along with all episodes and seasons? Then "Web Series" APP is heaven for you. The only App having 900+ Web series and 10000+ episodes in multiple languages.
Stream your favorite shows no matter the genre – Romance, Action, Comedy, Thriller, Drama, Horror, Sports, etc. Web Series App is dedicated to all Web Series lovers from all over the world. It provides the most popular Web Series with all episodes in a single place in your hands.
Web Series are collected and organized in a well-defined manner, therefore, you won't have to waste your FUN time searching for your favorite shows.
Awesome features:
Designed with love.
Personally collected contents.
Free Forever!
Daily Updated!
Personalized for Fun loving Audience.
Notifications for newly added videos.
Only popular and Must watch Web series app.
Vi Movies & TV: News, Movies, Live TV, Shows Free
Developed by the Vodafone network team, the Vi movies and tv app are completely free for its users. You can watch content from anywhere including mobile, tablets, or PCs, or even from smart TVs. There are approximately 400 channels from English, Hindi, Bangla, Tamil, and Telugu regions available here. If you are someone who considers it hard to run the settings in English, the UI is attainable to everyone. The users can operate in four different languages + English in such cases. 
What's More: 
What we liked about Vi movies and TV are their multiple-device streaming options. So, your brother or sister can simultaneously use the platform to view something else while you are watching a series from the same account. If you are ready to pay for premium, then be ready to enjoy the original premium access content in every language. Besides, that content from other streaming apps such as good is also featured here. 
But, not all boons are eternal. Soon, vi movies will cease to exist as a free platform and you may have to pay partially for it. So, enjoy until then.
Disney+ Hotstar
You may feel astounded that from when disney+ became a free platform. Relax! We are not saying it's a completely free platform. But part of it can be watched freely. It's an Indian OTT platform that provides three-tiered subscriptions. The free one does provide access to wider content within the platform but for a shorter period. With a Hotstar subscription, you can get access to multilingual content free from interruption. 
The trick about getting access to Hotstar premium content is recharging your mobile data pack in line with those plans which provide a one-year free subscription. Yes, there are many network operators out there like Vi, Airtel, and Jio who are ready to offer you a Hotstar subscription with their specific plans. 
What's More: 
Get Hindi-dubbed foreign shows and other multilingual content while streaming Disney+ Hotstar. The subtitles and original audio format are also there. You can also watch content from television free of charge after 24 hours of telecast on the TV channels. But, for free users, only a single episode will be available free. Others you have to sign in and then purchase for continuing to watch them.
Tubi TV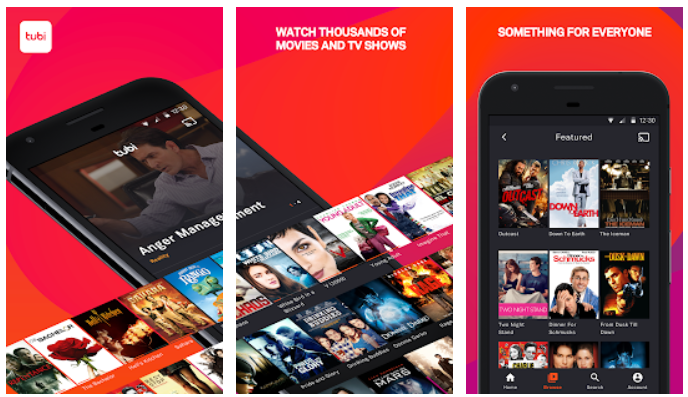 Tubi TV is a global platform whose headquarters are present in New Zealand, Australia, Canada, and the US. The streaming platform can be accessed by more than 25 devices. You won't feel bored while installing the app as the service has uploaded over twenty thousand movies and television series there. As a free platform to watch web series you can enjoy TV shows, movies, and other Tubi original web series content. 
What's More: 
It allows you to binge-watch tubi original shows, and movies free from ad interruption. If you are comfortable watching English series, then it's a great platform for you. You don't even have to worry about data consumption, as it takes fewer data to play a series. 
But, given the application is more global you can't expect regional content here. All the contents are English based which may not interest all.
Yupp TV 
Yupp TV operates globally and is counted among the largest online OTT entertainment solutions worldwide. It transforms your mobile screen into a mini TV from which you can stream into any channel. It's a wise choice you may think when playing any TV shows, movies, or catch-up TV shows. Other than your mobile devices, you can connect the video content from Yupp TV over PCs, smartphones, tablets, and internet sites. 
What's More: 
You can watch the latest released movies and web series here other than streaming live Indian TV channels. You can catch up on any show on any of the enlisted channels within the next ten days. Any content can be accessed across devices. Contents get updated regularly. 
But, users do complain about frequent displays and poor network coverage. Their customer support team should work on the raised complaints more efficiently.
Tata Play Binge 
The newly added OTT platform has been liked by the users for its concept of all one OTT platforms. The application comprises 14+ such ott streaming platforms gathered in place. You don't have to pay often as you will be charged a single subscription fee. Also, there is a free trial period where you can test their service and based on that can proceed to pay. 
What's More: 
Most of the shows and movies are available in over 12 languages from genres including documentaries, romance, drama, thriller, comedy, and action. As yet there are more than 20K+ movies and 8k+ shows uploaded on the ll-in-one ott platform. You can binge-watch from anywhere, anytime. 
But, many users complained about the screen getting repeatedly frozen with poor audio and video quality.
Viu 
Viu has remained the number 1 streamer in Asia with over 16 marketing companies including India, Qatar, Thailand, UAE, Philippines, Singapore, etc. Here you can enjoy unlimited free downloads of authentic online drama series, reality shows, short films, etc. The platform is mainly loved by viewers for its rich content-based Korean Dramas. Subtitles are also available for viewers' convenience. 
What's More: 
All those high-quality series, anime, and movies are featured as free with English subtitles. You can also create a category of your favorite shows from which you can watch any content anytime. 
But, users have remained unsatisfied mostly because of the slow interface. It takes time even to load the available programs.
TVF Play
Watch India's most loved original web series & videos from TVF & other creators
"The Viral Fever's Premium Online Video Streaming App
Watch India's most loved original web series & videos: Pitchers, Permanent Roommates, Tripling, Humorously Yours, Barely Speaking with Arnab, The Aam Aadmi Family, Chai Sutta Chronicles, Inmates, Bisht, Please!, F.A.T.H.E.R.S, Bachelors, The Making of, Daaru Pe Charcha, Tech Conversations with Dad, P.A.Gals, and many more…
Bored of the same old entertainment on TV? Bored of TV Shows and the daily grind?Download TVFPlay
The Viral Fever creates & curates progressive & new age stories that young Indians around the world can relate to. Watch amazing drama web series and the funniest comedy sketches from India. Discover, watch, share and download the latest videos from TVF and the best Indian digital creators
It's Not On TV. It's On TVFPlay.
Now Streaming on TVFPlay
Latest, full episodes of TVF Inmates, Chai Sutta Chronicles Season 2
All episodes of
Permanent Roommates
India's first web series, Starring Sumeet Vyas and Nidhi Singh, Permanent Roommates revolves around a young couple,Tanya and Mikesh, who after being in a long-distance relationship for 3 years, face the prospect of marriage
TVF Pitchers
India's answer to Silicon Valley, starring Naveen Kasturia, Jitendra Kumar, Abhay Mahajan & Arunabh Kumar. Ranked in the IMDB Top 50 Shows alongside shows like Game of Thrones, House of Cards, Seinfeld & Friends
TVF Tripling
Starring Sumeet Vyas, Maanvi Gagroo, and Amol Parashar,, TVF Tripling traces the story of three siblings Chandan, Chanchal & Chitvan. Together they start a hilarious journey, to find themselves and rediscover family relationships
Barely Speaking with Arnub
The talk show with a twist. Watch Shah Rukh Khan, Arvind Kejriwal & Ranveer Singh be interviewed by our own loud-mouth news anchor, who is not Arnab Goswami from Times Now
Best Indian Comedy
Qtiyapa: India's best comedy sketch videos – spoofing Raghu Roadies, Tinder, Cricket, Cowboys, Anurag Kashyap, Rohit Shetty, Times Now, IIT & Indian engineering colleges, Bollywood, Internships & more
Girliyapa
India's leading Women Centric channel for entertainment that celebrates relatable, Real, funny & interesting stories about Women, which probably has never been told. Because everything about girls is Not From Venus!
Also See: How to Delete Expired Subscriptions on iPhone
Ullu
Ullu is a subscription-based video on demand (VOD) service.
Ullu is a Streaming Platform that allows our customers to watch a wide variety of Web Series, Movies, and EXCLUSIVE Ullu Shows. You will find every genre in it Like Drama, Horror, Suspense, Thriller and Comedy in Ullu.
Free Trial:
Try us free for the First 4 Videos. You can Watch Every Trailer on Ullu Free. This will help you to decide which of the Most Exciting Content is for you. Ullu App Provides Different Variants for Different People Who want to Watch Videos on Ullu.
Watch 24 hours a day.
*Content May differ from Geographical Areas.
Membership:
Pick your price, pick your plan! Ullu offers Different membership plans to suit your needs.
You Can Choose Any Membership Plan You Want.
Web-Series & Movies:
Ullu members get instant access to great content Worldwide. Ullu has an Exclusive content library featuring originals, Films, Short Film, Various Language Content, Songs, Audio Listing Stories and more. Ullu content will vary by region and may change over time.
You can Play, Pause and Resume watching anytime.
Plus, you can download your favorite shows to your iOS or Android mobile device, with downloads, you can watch while you're on the go and without an internet connection.
Zee 5
100,000+ hours of video content with Original Series, Shows, Movies & Live TV
At ZEE5, we believe that for entertainment to come alive, you need to feel it! With 12 Navigational & Featured languages across TV Shows, Movies, Original Web Series, International Shows, Acclaimed Plays and much more. Enjoy unlimited entertainment with 80+ LIVE TV channels and 100,000+ hours of video content in the language of your comfort for an experience that feels like home.
Why choose ZEE5?
App Features
★ Video content dubbed in 5 languages including Hindi, Bengali, Malayalam, Tamil and Telugu
★ Display Language Navigation & Content Language/s Customization
★ Offline Download for Shows & Movies
★ LIVE TV Guide for Channel Programming
★ Smart Content Search, including Voice Search & recommendation
★ Seamless Streaming
Also See: How to Uninstall Discord on Mac
ZEE5 in your Language
Customize ZEE5 app as per your preferred app language across the languages of English, Hindi, Tamil, Telugu, Malayalam, Kannada, Bengali, Marathi, Punjabi, Bhojpuri, Gujarati & enjoy a richer content experience.
Popular Indian TV Shows On-Demand
Binge on 80,000+ hours of TV Shows from 500+ series across 8 Indian languages. Our popular list of TV shows includes high-rated shows across all ZEE network channels including Kundali Bhagya, Ishq Subhan Allah, Bhabiji Ghar Par Hain, Lagira Zhala Jee, Mazhya Navryachi Bayko, Sembarathi, Muddha Mandaram, Andarmahal, Dance India Dance & much more. Relive full event and special performances from Hindi and regional events like Zee Cine Awards, Zee Kutumbam Awards etc.
Blockbuster Movie Library
Explore a movie-watching experience like no other with ZEE5's rich Movies library with titles ranging from India's first sound picture, Alam Ara to Oscar-winning films Moonlight and Her. Binge on your favourite Bollywood and regional movies from across languages like PadMan, Toilet: Ek Prem Katha, Sairat, Mersal, Brahmotsavam & Saheba or browse through Hollywood & international blockbusters like The Amazing Spiderman, Pele, Fury, 12 Years A Slave, The Imitation Game & more. ZEE5's hand-picked list of popular Dubbed & Sub-titled movies offers to break the language barrier & enhance your online movie experience.
Best of International Series
Enjoy our impressive collection of Premium TV series from across the globe. Watch the best of Turkish, Korean & Spanish shows like The Young Pope, Pablo Escobar, Doctor-X, Bread, Love and Dreams, Boys Over Flowers & more EXCLUSIVELY in Hindi. Don't miss our line-up of most-loved and top-rated Pakistani dramas & English series like War & Peace, The Son, Community, Citizen Khan and more.
ZEE5 Originals for Every Mood
ZEE5 promises a unique storytelling experience with its unparalleled range of Original web series across various genres & languages like Karenjit Kaur, Zero KMS, Life Sahi Hai (seasons 1 & 2), The Story, Nanna Koochi, America Mappillai, Babbar Ka Tabbar & many more featuring popular celebs and artists across different languages.
Latest Music Videos
Make ZEE5 your new destination for the trendiest Music Videos online. Watch and listen to songs of your favourite stars and their blockbuster hits in HD from Bollywood, Marathi, Bangla, Telugu movies, albums & more.
Kids Learning Experience
Discover a whole new way to learning with ZEE5's Kids content – from kids shows that include animated series and movies like Dexter's Laboratory, Bandbudh Aur Budbak, Ben 10, Smurfs 2, Hotel Transylvania etc. Science shows like DIY tips for crafts with The Art Room, Clips on English rhymes and other infotainment videos.
LIVE TV On-the-Go
Choose from 80+ LIVE TV channels and enjoy the best of Hindi, English & Regional GECs, Movie, News & Kids channels.
Also See: How to Add Apps to Vizio Smart TV
AddaTimes
Bengali Entertainment App with Original Contents, Movies, Music & Sports.
Addatimes – Originals | Movies | Music | Sports
Addatimes is first of its kind Bengali video-on-demand platform, which offers a wide range of effervescent, witty, and original content that is contemporary yet binds the traditional Bengali culture together for the Bengalis globally.
Download and Subscribe to our App now to access uninterrupted streaming of our Original Web Series, Old & Latest Bengali movies, Original and Internationally acclaimed short films, HD LIVE Sports, carefully hand-picked trending and classic Bengali songs in our MP3 section, Reality series, Fashion DIY videos, Cookery shows, Biographies, LIVE Events and much more, all available in high-quality streaming package and with new content releasing every month.
A complete package of entertainment in-stored for you-
FOR BINGE LOVERS – Our Binge-Watch Originals / Our Original Web Series
Now you can binge-watch all of our original Bengali web series exclusively on Addatimes App on-the-go. Enjoy seamless streaming of web series of different genres ranging from romance to thrill to comedy on our App.
Khyapa – Saga of the soul-seeking journey of a teenager. Starring Arya Dasgupta, Pushan Dasgupta, Diti Saha
One Night Stand – An erotic night that brings and departs three strangers. Starring Prriyam Chakraborty, Saurav Das, Neil Ambarish
Sufiyana – A tale surrounding different shades of womanhood. Starring Anusha Vishwanathan, Ujan Chatterjee
Feluda – The iconic Satyajit Ray detective series first time released as a web series in an all-new contemporary avatar starring Parambrata Chatterjee & Riddhi Sen
Virgin Mohito- A star-studded take on women, their virginity, and their relationships . Starring June Maliah, Anindita Bose, Piya Debnath, Ushashie Chakraborty, Alaknanda Roy, Geetasree Roy, Ananya Sen
Monsoon Melodies- A unique love story. Starring Prriyam Chakraborty, Anshu Bach
BC Baal – An absurd detective series. Starring Sahidur Rahman
And the list continues. You can watch all of these including a lot more web series on Addatimes App, all you need to do is download the app, register & subscribe.
FOR MOVIE BUFFS
Watch classic and also recently released Bengali movies like Bedroom, Chalochitra circus, Arundhati, char, Byomkesh, Mon mane na, hero, paglu and many more ranging from your favorite on-screen tolly couples Dev and Koel Mullick to Abir Chatterjee and Jeet movies streaming now only on Addatimes App. Your weekend movie binge is sorted with us.
FOR SHORTS LOVERS
Not only web series but our original short films sections cater to your on the go entertainment needs. Browse through our Dil se section for a peg of beautifully crafted romantic short films, or tune to our Thrill Pill section for some intense thriller shorts, and also we have for you internationally acclaimed short films in our handpicked shorts for the avid web entertainment buffs.
FOR SPORTS FANATICS
Live stream the most loved football league of the East only on Addatimes. Witness Bengal's football legend take a digital For the first time ever in the history of Calcutta Football League, the match between three legendary teams East Bengal FC, Mohammaden SC, Mohun Bagan AC is being live streamed. Watch out for East Bengal FC and Mohammaden SC match HD live streaming on September 11, 2018, from 4:15 PM IST and also the match between Mohun Bagan AC and Mohammaden SC on Addatimes App. Watch match highlights direct from the stadium and much more only on Addatimes App.
WHY ADDITIVES?
New shows added each month, at times every fortnight
Reasonable Subscription Plan
No interruption of Ads, we guarantee you an ad-free content
HD Videos
Ease of accessibility – You can stream our content on our Apps, website, Android TV, Amazon fire Tv stick app, also on any smartphone irrespective of its size and high tech features it just needs a smartphone
One stop for all your entertainment cravings- sports, movies, web series, short films, events, reality series.
Also See: Best Chromecast Apps for Windows
Conclusion Web Series Apps
So above are the top 10 best free web series apps which allow you to watch your favorite shows anytime. You can install and run those apps remotely anywhere as well as comfortably sitting on your room couch. While most of them are completely free, few need a partial subscription to avail of all their features. Also, if you are patient enough to tolerate ad interruptions in between then go on enjoying them. You should also check out our free tool Fix My Speaker.