Xiaomi has launched the Mi Sports Bluetooth Earphones Basic in India, The Mi BT earphone Basic is a very light weight earphone that comes in White and back colour.
Mi Sports Bluetooth Earphones Basic Unboxing
The Orange box pack is big as compare to Youth Edition and inside the box you will find the Mi Sports Bluetooth earphone, user guide, data cable,   and 4 extra rubber ear extra ear tips with adjustable hook.
Mi Sports Bluetooth Earphones Design
As per me the earphone looks really amazing. I have the black colour version with matte finish. Mi Bluetooth earphone has got a simple a very simple design that looks so elegant and it is pretty light weight at just about 13.6 grams with built in battery. You will hardly feel it when you will use it.
In the In-line controller You will find the micro USB port to charge up this earphone and that has 3 buttons to control music and enable Google Assistant and also includes the MEMS Silicon Microphone. Just above the micro USB port, on the front, there is a LED indicator. There are in total 5 ear plugs with hook, use the one that fits well and is comfortable to you.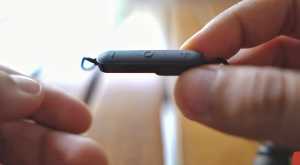 Mi Sports Bluetooth Earphones Usage
Press and hold the O button on the controller for few seconds to power on – you will see the white colour LED lighting up. Press and hold button for few seconds to switch off – you will see the Red LED glowing and then it will shut off.
To enter pairing mode you will need to press and hold and keep holding until you see the white LED blinking continuously. Pairing is simple, you will get Mi Sports BT Earphones Basic – in your phone, Click on the name to pair.
After pairing double press the button to activate Google Assistant, single press to pick up the call,  press and hold + to switch to next song, press and hold – switch to previous song when using music player.
Also Read :- Xiaomi Air Dots Pro Review (Best AirPod clones)
Mi Sports BT Earphones Basic Performance
This device is running Bluetooth 4.1. The range pretty good which is up to 10 meters. Sound quality is pretty impressive. The ear plug with hook fits well, feel pretty secure. Sound loudness is pretty good.
Mi Sports BT Earphones Basic Battery
The built in battery can be fully charged in less than 2 hours and gives up to 9 hours of talk time and up to 180 hours of standby time. For my kind of usage I am getting almost 3 days of battery backup.
Also Read :- Redmi Go Hands-on Review Price And Full Specification
Mi Sports BT Earphones Basic Water & Sweat-proof feature
The Xiaomi Sports Bluetooth basic carries an IPX4 certification, which means it is splash resistant. So you will never have to worry about enjoying your favorite songs on a rainy day. It also boasts operating temperatures in the range of -20°C to 70°C.
Should You Get It?
The Xiaomi Sports Bluetooth basic earphone is no doubt a very good earphone that looks beautiful, lightweight and unique. This earphone is available to Mi.com