Google Play Store download pending: The default app store on all the Android devices in Google Play Store and almost every one of us relies on it to fulfill our need of latest games and apps also Play Store plays a major role in the Android ecosystem because it helps to get your apps updated and make your phone risk free.
However there are thousands of users are facing a critical bug where downloading does not start in the Play Store its shows pending for download like a rose I was one of to users but finally I have found a way to fix this, therefore, today I am here to share a step-by-step guide on how to fix download pending issue in Google Play Store.
Fix: Google Play Store Download Pending Issue
Google Play Store download pending error annoys a lot because there are some apps which need to be updated otherwise you can't use it so here is the troubleshooting methods that I have tried for myself and they work for me remember you have to try each and every method because we don't know what is the issue in your device so here we go these steps will definitely fix download pending issue in Google Play Store.
1. Check your WiFi/Internet Connection
The basic step is to ensure that your internet connection is stable enough to download the application through Google Play Store if not try to download the application through Wi-Fi this my fix download pending error in Google Play Store, in case if this doesn't work kindly follow the second step shown below.
2. Check your Remaining Storage Space
The fact is whatever you want to download from the Google Play Store requires enough space in your Android device to download and install it every time you download any application uninstall in your Android phone it consumes a lot of space for an example Facebook lite application is just about one agree but after you install on your Android device it consumes around 10 to 15 MB space so please check your device storage.
If your device storage is full I kindly request you to make some space and before deleting anything you can always try for backup so you don't lose out any of your data I hope this one fixes the error if there is any storage issue.
3. Check the Current Download Line-up
One of the most common causes of download pending issue is caused download application that is generally caused by the auto-update feature in Google Play Store.
To check the same, open the Play Store and navigate to the "My apps & games" section through the side menu. Here, you'll see the list of downloaded apps besides the ones waiting in the chain. Tap the "Stop" button and re-download the app you want to. After that, you can continue updating other applications.
You can always avoid such issues like this by going to the Play Store settings and either disable auto-updates or limit them to WiFi.
4. Check Google Play Store update
Google Play Store is also an application so it requires to be updated to work properly at certain times play Store update itself that too without showing any notification so if in case of Play Store is updating in the background then definitely the second application you are trying to install we'll show download pending to ensure your Play Store is updated.
Open Play Store and go to menu > settings > Play Store version to ensure whether it is updated or not try to click on 5 to 6 times and it will show that Play Store is updated or Play Store will be updated soon if you get the information that Play Store and update so you have to wait for it and it will download and install the latest version.
5. Force Stop/ Clear Play Store Data
Giving Play Store a fresh start can help fix a lot of general problems, including stuck downloads despite having stable connections, enough storage, and clear queue.
So, try force stopping the app once and see if it works (this option can be found in Settings > Apps & Notifications > See all apps). If not, click on Clear Cache and Clear Data, then re-open the Play Store and try the download again.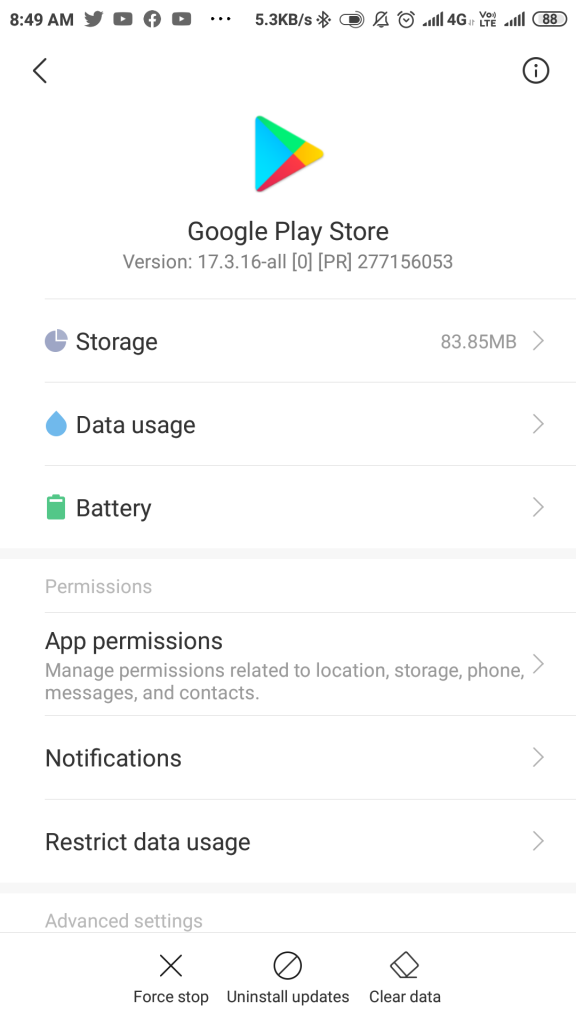 6. Google Play service Beta
the Google Play service also plays a major role in the Play Store ecosystem and sure this security off smartphone there are certain times when you join Google Play service beta and sometimes the beta update comes with some sort of that it might give you the download pending error on Play Store.
All you need to check if you are a beta user then consider when installing the updated version of Google Play service at this will help you to solve your Play Store download pending issue and if this occurs again and again then you might leave the beta update of Play service.
7. Uninstall & reinstall Play Store updates
The above mentioned step number 5 applies to Google Play Store also if in case you have tried all the above methods I would suggest kindly uninstall the updated Play Store version and try to download your app that you want to if it works then I would suggest to leave the beta updates for the Google Play Store and use your phone on daily basis you have to remember that beta updates will always bring some sort of bug that can bring some more errors to your Android device.
Conclusion
That's it to fix download pending issue Google Play Store in my situation I was the part of Google Play service beta and whenever I update to the latest version I used to face the same problem so I have left the beta updates for the Google Play service and now I am using my Android device smoothly in case if you are facing any sort of issue you can contact me on twitter @devenderkg.
---
You may also check out our latest articles here